Safety and Environment Policy
Safety and Environment Policy
The Saudi Public Transport Company "SAPTCO" controls and audits its work procedures in order to verify that its executed works match procedures, and to verify the effectiveness of proceedings and personnel. the plans are prepared on an annual basis; and cover all sectors, branches, stops, agents and reststops to assure that all work matches the procedures that have been developed and documented, and that all services meet the customers' needs and satisfaction levels, ensuring the continuous improvement of service quality, as well as applying the highest standards of safety. quality and safety contribute to improving the level of services offered to customers by the company's operational sectors, through kpis, with a view to promoting positive aspects and minimizing the negative ones. the company has a group of approved auditors and a team of field control specialists, supplied with the latest devices and techniques, inclusive of modern vehicles and developed communication devices.

continuous integration through providing the best services to customers the saudi public transport company – SAPTCO – is committed to the safety and quality of services being provided to its customers, through seriously and continually applying the highest organizational standards for providing safe services, meeting the customers' needs and promoting its competitive advantages. to achieve this, the company has a number of departments, as follows:
1-Quality:
saptco is committed to applying the highest levels of quality, as per iso9001, and always seeks to meet its customers' satisfaction, according to the company's vision, mission, objectives and policy.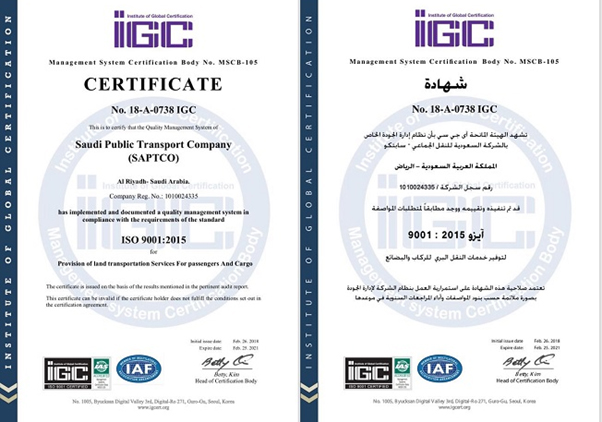 2-Safety:
saptco fully adheres to its duties towards the elements of safety. in fact, the company puts safety as its highest priority and an important tool for judging the company's success. whereas the company provides a regular and consistent route network, providing transportation services to its customers, without compromising on factors of safety and efficiency. further, the SAPTCO team assures the application of safety standards in its buses, imposing all necessary precautions, in line with the directives of official bodies.
3-Customer Service:
saptco is keen to respond to all customers' needs, requests, inquiries, remarks and suggestions, directly through contacting the nationwide number 920000877, via whatsapp or social media accounts (twitter, facebook & instagram).