Establishment, most prominent milestones, expansion and growth:
In 1979 AD, the government started to establish the concept of public transport in the Kingdom of Saudi Arabia through the establishment of the Saudi Public Transport Company "SAPTCO" as a Saudi joint stock company. The government is the largest shareholder of the company, which was designated the first national land carrier.
The company's articles of association set its capital at 1,000 million Saudi Riyals, and this was increased, in 2007, to 1,250 million Saudi Riyals. SAPTCO's fleet consists of more than 3,250 vehicles of various types and specifications, and they are equipped with the latest, most advanced systems, such as vehicle tracking. , and to fulfillment, printers provide service to its customers in the SAPTCO process by focusing on the optimal use of its resources. Workers working in the field of work, as they reached 1997 employees distributed according to the job category between driver, technician and administrator.
Services provided by SAPTCO:
SAPTCO provides a range of services to various categories of customer, namely:
1- Public transport services within cities:
SAPTCO provides public road transportation within the main cities of Riyadh, Makkah Al-Mukarramah, Madinah, Jeddah, and Dammam at specific set tariffs, which may vary according to operational schedules and the level of traffic.
2- Inter-city transportation services:
SAPTCO provides transportation services between cities through a wide and regular network of routes, connecting more than 350 cities and centers in various regions of the Kingdom, providing more than 650 trips per day through 13 stations and 157 agents.
3- International Transport Services:
SAPTCO provides international transport services to five neighboring countries (Egypt, UAE, Bahrain, Sudan, and Yemen) via 14 routes running 18 trips daily.
4- "VIP EXPRESS" Premium service:
SAPTCO offers high-quality direct non-stop routes, providing special services for passengers throughout the trip, whose durations range from short to medium :
Direct Trips
Entertainment screens
Hot drinks
Light meals
Charging points
Internet
5- Specialized services:
SAPTCO provides a variety of transportation services across its vehicle fleet according to the needs of its customers, including:
Hajj, Umrah and visitor transportation services
Staff transportation
Students' transportation
Deliveries between cities and outside the Kingdom
Tourism, school and university trips, groups and various events
Hourly or daily rental services
Long and short-term service contracts for companies and establishments
Limousine services
Comprehensive Umrah services (accommodation - transportation tours)
6- Digital Services:
SAPTCO's digital services aim to develop the Kingdom's transport ecosystem by promoting the concept of smart mobility and enriching the customer experience by taking advantage of the latest artificial intelligence technologies and enablers and to keep pace with the Kingdom's Vision 2030 to raise the quality of life and lifestyle to provide digital services in the Kingdom of Saudi Arabia.
One of SAPTCO's initiatives in the field of digital services is the establishment of digital mobility solutions company DMS to provide digital mobility services throughout the Kingdom of Saudi Arabia.
To learn more about digital mobility services click here.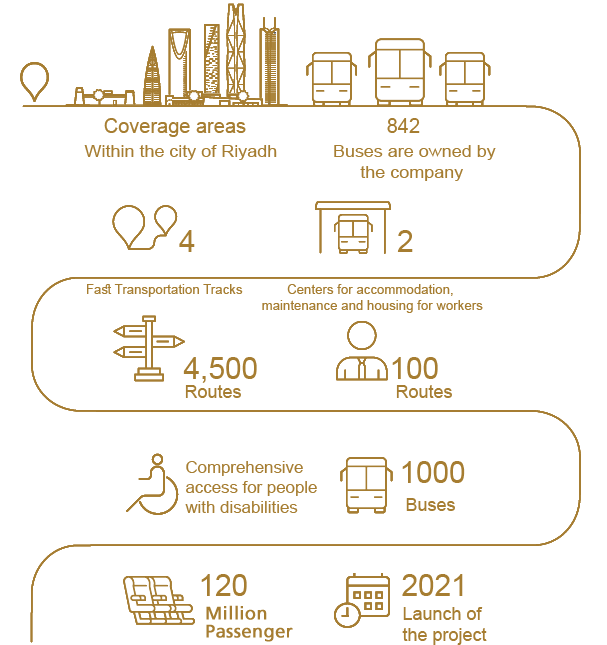 Strategic partnerships and companies:
In 2010, SAPTCO established a qualitative partnership with RATP Dev, which is one of the top 5 companies in the world managing and operating public transport; and this partnership culminated in them launching two companies.
1- Public Transport Company ( PTC) :
A limited liability company owned by SAPTCO (80%) and RATP Dev (20%) was established to undertake the implementation of the project contract for the supply, operation, management and maintenance of the bus network in Riyadh within the King Abdul Aziz project for public transport in Riyadh (Metro - Buses).
2- Capital Metro Company (CAMCO):
Capital Metro Company (CAMCO ) was Founded in 2017 by joint ownership between RATP Dev (80%) , the French company specialized in developing, operating and maintaining new transportation systems in France, Europe, and around the world and SAPTCO (20%), Saudi company which provides public transport services across the Kingdom. CAMCO is established to operate and maintain trains, and the first project its Riyadh Metro project the Line 1 (Blue 38 km) and the Line 2 (Red 25.3 km) out of the 6 lines of the Riyadh Metro project owned by the Royal Commission of Riyadh City. CAMCO is awarded this contract for 12 years.
Blue Line: Al Olaya Main Road - Al Bathaa, this route covers 38 KM. This line includes the following special construction works:
- Excavation of a deep tunnel (25 - 40 meters) on Al Olaya and King Faisal road extended to 17.3 KM, and this tunnel will be built by using the Tunnel Boring Technique.
- Implementation of two major stations: King Abdullah Financial District Station and Olaya Station.
- Implementation of transfer station next to King Abdul Aziz Historical Center (where this line meets line 5 on King Abdul Aziz Road).
- Implementation of 3 Park & Ride Car Parks, with 600 park spaces for each.
- Implementation of two depots for stabling and maintenance, with total area of 227 thousands square meters.
Red Line: King Abdullah road, this route covers 25.3 KM. This line includes the following special construction works:
- Implementation of passenger stations to serve main areas nearby: King Saud University, King Salman Science Oasis, Education zone includes each of: (Ministry of Education, Prince Sultan University, Riyadh Technical college), Riyadh International Convention & Exhibition Center, King Salman Social Center, King Fahad International Stadium.
- Implementation of 2 Park & Ride Car Parks, with 600 parking spaces for each.
- Implementation of two depots for stabling and maintenance near King Fahad Stadium, with total area of 122 thousand square meters.
3- Saudi Emirati Integrated Transport Company (SITCO):
In 2014 AD, a company was established between "SAPTCO" and "Emirates Transportation", with the aim of providing safe and reliable transportation services for the school transportation sector. The resulting Saudi-Emirati Integrated Transport Company "SITCO" – is one of the largest educational transportation companies in the region. It serves more than 500 schools around the Kingdom and contributes to the transportation of more than 200,000 students every day.